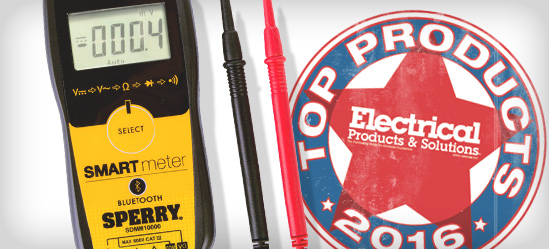 The SMARTMeter™ is a SMART Decision
Menomonee Falls, WI – January 31, 2017

Sperry Instruments® is proud that announce that their new SMARTMeter™ digital multimeter has won a Top Product of 2016 award from Electrical Products & Solutions magazine. The announcement can be found on page 28 of their December 2016 edition.
The innovative SMARTMeter™ functions as a traditional DMM with capabilities for a smart phone or tablet to view, monitor, and capture pictures and data. All data sharing is instant to email, text, picture, or excel. This SMART digital multimeter trumps the competition in performance while being the only one in the category to retail for under $100.
This tester features a hi-impact ABS housing with a 250 pound crush rating and the ability to withstand a drop of up to 10ft. It is also pocket size for every electricians convenience.
For more information on the SMARTMeter™ digital multimeter please feel free to visit: sperryinstruments.com/smartmeter