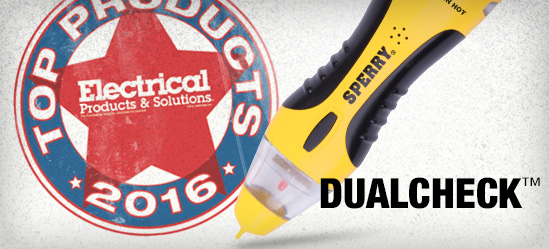 The Dual Check™ Has Done it Again
Menomonee Falls, WI – January 31, 2017

The Dual Check™ by Sperry Instruments® has won yet another award! We are extremely pleased to announce that the Dual Check™ 2-in-1 non-contact voltage tester and GFCI outlet tester has been chosen as a Top Product of 2016 by Electrical Products and Solutions magazine.
Top product awards are given to electrical products and are the most unique and reliable in their category. The Dual Check™ is the first of its kind and serves the customer with the quality they want to see in their electrical products.
The Dual Check™ offers a 360° LED indicator and the best in class outlet GFCI tester with one easy-to understand 1 LED readout. It also comes with Lifetime Warrantee, 250 pound crush, and 10ft drop rated.
For more information on this new and innovative product please visit: sperryinstruments.com/dualcheck