NEW
Introducing Dual Check™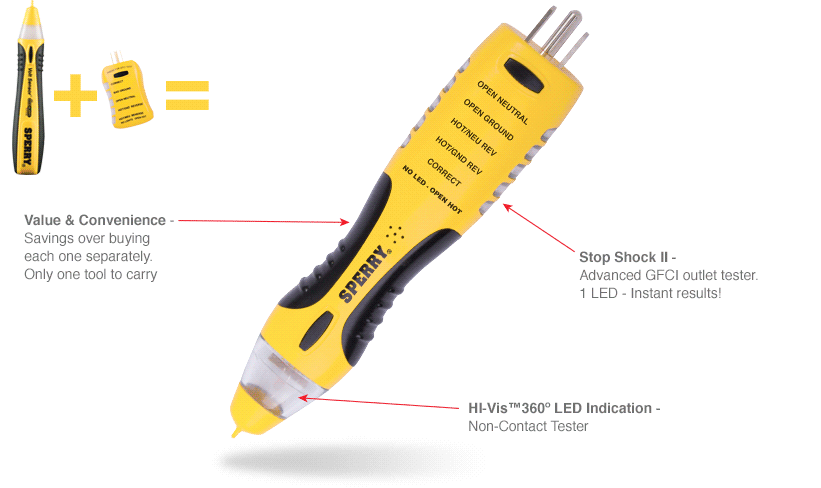 Announcing Sperry's innovative patent pending design in a 2 in 1 tester.
Innovative "New to the World" tester saves you time and money, while providing quality you can trust. It incorporates a latest technology Non-Contact Voltage Tester and GCFI Outlet Tester into a single unit. These are 2 of the most popular testers by electricians, inspectors, technicians and homeowners.
With Sperry Instrument's advanced technology, the DualCheck™ quickly provides an accurate analysis of your 120 volt receptacle. The Non-Contact offers a 360° LED indicator and the this best in class outlet can detect low resistance values on the ground and provide a clear and easy-to understand 1 LED readout - there are not any charts to read or memorize!
Not only is this a high-quality item, but it is durable and can withstand a 10 foot drop and has up to a 250 pound crush. This is a great tool that increases the productivity of any job.
Benefits:
Time Saver: Instead of having to carry, check and review the results from 2 separate tools, you now just need one. One less tool to keep track of, double the value.
Save Money: Savings over buying each tool separately.
Merchandise: This can be placed on a clip, display or on the counter. Can be put in the electrical area or up front as this is a multi-use product.
Features:
Non contact voltage detection
GFCI tester with advanced ground testing circuitry
Exclusive 1 LED Readout - No charts, instant results
360° LED indicator
Hi-impact ABS housing with over-molded grips
Can withstand a 10 foot drop
Has a 250 pound crush rating
Limited Lifetime Warranty
Specifications:
| Item # | UPC | Description | Color | Qty |
| --- | --- | --- | --- | --- |
| VD7504GFI | 032076937225 | DualCheck™ | Yellow & Black | 1 |
Online Resources