NEW
Introducing Stop Shock™ II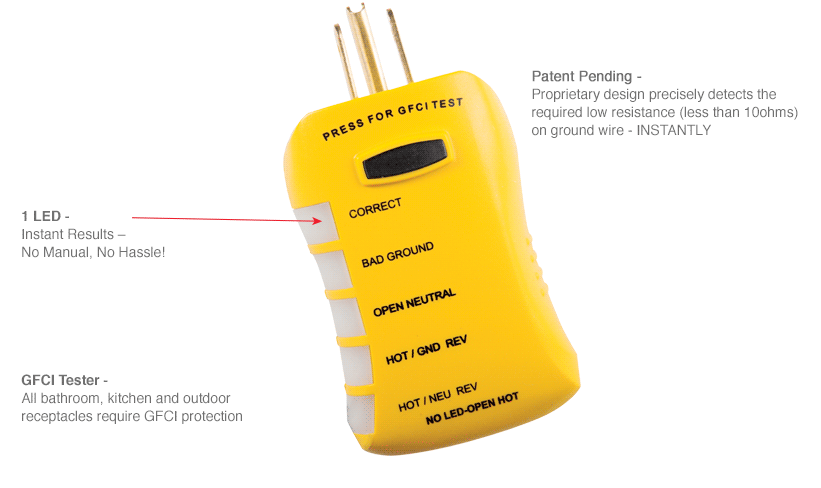 Stop Shock™ II Outlet Circuit Analyzer.
The Stop Shock II Circuit Analyzer makes it easy for anyone to use. This GFCI tester uses advanced circuitry to provide a 1 LED readout and precisely detects the required low resistance (less than 10ohms) on ground wire - INSTANTLY.
This patent pending outlet tester has a simple 1 LED readout with no dual indicators or charts to read.
The Stop Shock II includes GFCI test function to test outlets wired in parallel to GFCI circuits (All bathroom, kitchen and outdoor receptacles require GFCI protection).
Benefits:
Convenience: This item does not include a chart for readings and can fit simply in your pocket.
Patent Pending: Proprietary design precisely detects the required low resistance (less than 10ohms) on ground wire- INSTANTLY
Merchandise: This can be placed on a clip, display or on the counter. Can be put in the electrical area or up front as this is a multi-use product
Features:
Instant and easy results – no chart to carry or interpret
Advanced ground testing circuitry
Hi-impact ABS housing with over-molded grips
Can withstand a 10 foot drop
Has a 250 crush rating
Limited Lifetime Warranty
Specifications:
| Item # | UPC | Description | Color | Qty |
| --- | --- | --- | --- | --- |
| HGT6520 | 0320769218866 | Stop Shock™ II Circuit Analyzer | Yellow & Black | 1 |
Online Resources